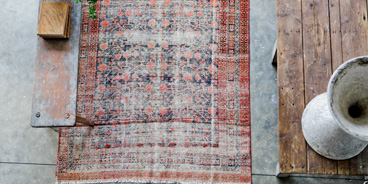 Antique Chinese rugs are at the foundation of textile history. These beautifully handcrafted rugs have been produced and perfected through centuries of experience by master weavers in China and the surrounding regions. Steeped in history that runs deep into the cultural practices of the area, both religious and philosophical elements played major roles in the design of Antique Chinese rugs. Besides the images that pre-dominated these rugs, there was a common color palette often found in Antique Chinese rugs that included shades of blue, apricot, yellow, and red.
The collection of Antique Chinese Rugs at Woven Accents is a unique and high quality array of floor coverings that cannot be found anywhere else. This collection was intentionally assembled through decades of personally chosen rugs gathered from our many travels through Asia. Some of our most interesting pieces are from our Antique Chinese rug collection including round and oval shaped rugs as well as antique carpets and rugs that burst with vibrant colors and extensive patterns. Many of the Chinese rugs at Woven Accents explore the flora and fauna motifs and more specifically lotus blossoms and chrysanthemums that were popular symbols in Chinese culture. Clouds, birds, and finely detailed medallions are also found on many of our Antique Chinese rugs. One of the most unique pieces in our collection of antique Chinese rugs includes a landscape design of mountains, fields, lakes and trees using repeating patterns of wavy lines.
Buddhist and Taoist themes are often seen in Antique Chinese rugs. These spiritual symbols woven into the design of the rugs promoted balance, good fortune, and long healthy lives. The use of these meaningful visuals in floor coverings connected the artistry of the rugs with larger ideas of divinity and purpose. They moved the rugs from the realm of decorative pieces to deeply important reflections of beliefs and values. Much of the iconography used in these antique rugs were meant to bestow wishes of prosperity and longevity within the homes they were placed.
We have a highly trained staff of antique rug experts at Woven Accents. We love sharing our knowledge of each genre of antique rug as well as the historical meaning behind many of the designs. Please take a look through our online collection of Antique Chinese rugs and discover for yourself the sense of ethereal lightness and organic openness these rugs can add to your home. Please contact us if you have any questions about the origin, materials or meaning behind an individual rug.